Industry
Different Industries Worldwide Involved with Machinery
An Overview: What is the machinery industry?
The machinery industry includes manufacturing technology and robotics, which have all of the ways people make products. Several people work in the field. Some engineers design machines for specific jobs; they are machinists. In this article, we'll learn about different industries Worldwide involved with machinery and more with detailed information.
Some technicians test new equipment to make sure it works before it goes on the market. The machinery industry is responsible for making our society work. With all of the machinery that makes everyday life possible, it's hard to imagine what we would do without this Industry.
Some Machinery Manufacturing Industries
The Machinery Manufacturing Industry includes different companies that manufacture power-driven tools, production machinery, and equipment. The Industry also includes companies that provide metal casting services, such as smelting aluminum alloys or steel alloys by melting scrap metal.
The Power-driven handtool subsector manufactures hand tools powered by nonmechanical energy sources, such as compressed air or water. Production machinery and equipment include general-purpose machinery for manufacturing various products from metal, plastic, or other materials in a wide range of industries, including automotive parts, tooling, cutlery, and food processing.
The Metal Casting Services subsector provides metal casting services. The Industry includes aluminum alloy casting services, ferrous metal casting services, and non-ferrous metal casting services.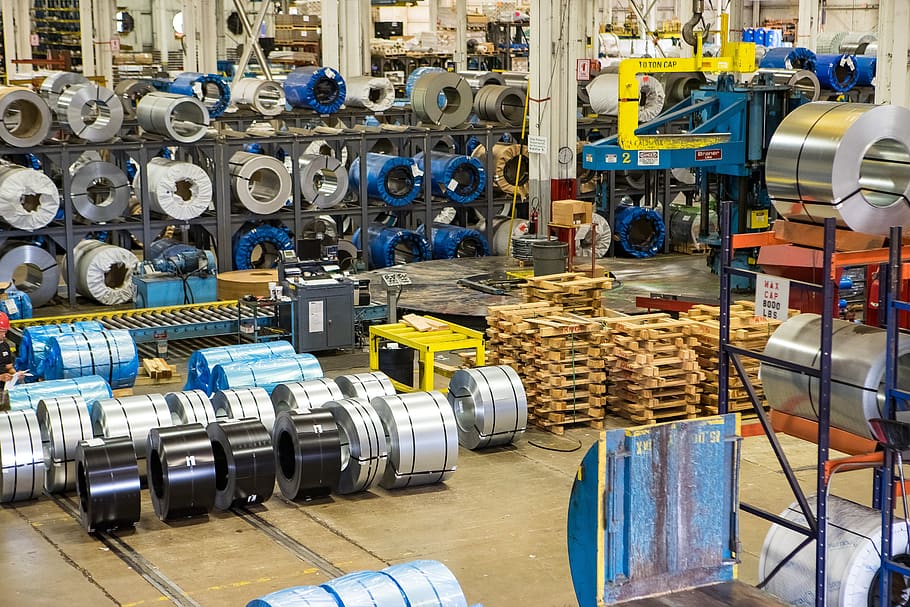 Some Famous Industries Worldwide Involved with Machinery in the US.
The United States of America is a leading world power in the machinery industry. In 2009, it ranked fourth, after China, Japan, and Germany, based on export volume. The USA exported $32.1 billion worth of machinery (not including defense products) that year, mainly to its North American neighbor Canada (for which it accounted for 20% of exports), followed by Mexico (14%) and China (10%).
Different industries worldwide involved with machinery have many categories: metal cutting and forming machines, material handling equipment, machine tools, fabrication machinery, packaging machinery, power hand tools, and more. The machine industry includes many companies that offer products for each of these sub-industries.
Companies like DeWalt, Black & Decker, Makita, Porter-Cable, Bosch, Milwaukee Tool, and others are considered manufacturers of power hand tools. Power hand tools include nail guns, drills, saws, sanders, routers, etc., which are for purposes like construction work. Similarly, companies like Nachi America Corp., Daido Metal Co., Ltd., Minebea Co., Ltd., JTEKT Corp., and others are considered manufacturers of machine tools. Machine tools include metal lathes, millers, drills, saws, routers, etc., which produce various industrial equipment.
Fives Group, The Manitowoc Company Inc., Terex Corporation, INGERSOLL-RAND Company, and others are considered metal cutting and forming machinery manufacturers. Metal cutting and forming machines include metal saws, presses, shears, laser cutters, etc. These are used in many different industrial settings to fabricate sheet metal or plate materials into components. Packaging equipment companies like GSE Corp, Omron Adept Technology, Inc., and Intelligrated build equipment such as robotic arms and packaging products such as smartphones.
Companies like FUJIFILM Holdings America Corporation, Snap-on Incorporated, and IROBOT Corp. manufacture material handling machinery. Material handling equipment includes everything from forklifts and cranes to trains and dollies, used in industrial settings like warehouses or manufacturing facilities.
Companies like Terex Corporation, Manitowoc Company Inc., The CH Robinson Worldwide, Inc., and others build products that fall under the category of fabrication machinery.
List of most famous Machinery Industry Manufacturers of USA
Some of the most popular manufacturers of machinery industries present in the USA are involved in the research and development of different products.
GE Power Electronics, Inc.
GE Power Electronics, Inc., founded in 1901," is headquartered in Atlanta," GA. It develops technology for energy generation, transmission, distribution, and electrification utilizing innovative power technologies. The company operates through divisions:
Energy
Healthcare
Transportation
Lancer Corp Industry
The Lancer Corp. is a leading developer of dedicated military hardware for the defense forces of several colonies in the outer rim. The corporation's headquarters is in the city of Xing in the Omega IV colony, where it occupies two entire skyscrapers connected by a near-bottomless catwalk system. The Lancer Corp was founded during the late 21st century by a retired military officer and an engineering genius.
General Motors Global Propulsion Systems
General Motors has a storied history in the automotive industry. Founded in 1908, GM quickly rose to become one of the world's largest and most well-known automakers. After several decades of dominating the market, General Motors' market share began to decline in the wake of increased competition from all fronts. Most notably, the rise of companies like Toyota and Honda increased the competition.
As of late, General Motors has enjoyed a return to form after some rocky years in the early 2000s. For decades, GM focused its research and development efforts on creating better gasoline engines for its vehicles. These engines were simple affairs at their core, involving air into an area, mixed with fuel, and then burned. The combustion of this mixture drives the pistons at the bottom of an engine's cylinder, which creates power that can be either used directly or sent to a propeller shaft.
Rolls-Royce Corp.
Rolls-Royce Corp. was founded in 1884 by Henry Royce, and Charles Rolls produced high-quality luxury cars. Over one hundred years, their company has built a global reputation for quality engineering, delivering superior performance through state-of-the-art technology. Today, the car brand that bears its name has become a global phenomenon.
Their cars are in demand worldwide, and their prices are very high for their beauty, comfort, power, quality engineering, and performance. Each vehicle is crafted with the utmost attention to detail using only the finest materials. Quality craftsmanship goes into each vehicle's construction from start to finish. Every Rolls-Royce motor car drives as well as it looks. Today, Rolls-Royce continues its tradition of quality, engineering, and performance. The company has been under the ownership of BMW AG since 1998, a relationship that focuses on preserving its long history of high-end automotive excellence.
Naval Surface Warfare Center, Crane Div.
The Naval Surface Warfare Center, Crane Division, has been a part of the United States Navy since 1916, originally known as the US. Army Mine Planter Service Depot and Post Office from January 1, 1916, to December 15, 1941, it was established on October 5, 1941, as a component of the Navy's Bureau of Yards and Docks.
Apart from this if you are interested to know about Industrial Metal Supply then visit our Industry category.
FAQs
What are the subsectors of Machinery Industries? 
Machinery industries comprise the following subsectors: automotive; metalworking machinery; and other machinery (agricultural, construction, etc.).
How are metals joined and made?
Metals formation is by any number of ways to achieve desired shapes and sizes for specific uses. It may simply melt the metal and pour it into a mould for incredibly soft metals such as aluminum. Other methods of joining metals together for strength include welding, soldering, and brazing.